Blue Agave
Location: Chocolate Hole North
View: Hart Bay, Chocolate Hole to St. Thomas
---
Rates from $3900 per week
---
Inquire / Book Now
---
Villa Description
Situated about 2 miles from Cruz Bay, this two-level, 4 bedroom, 4 bath vacation home offers privacy and comfort. The upper level contains the master bedroom, kitchen, living room, full bath and deck with pool.
On the lower level are the laundry room and three bedrooms each with ensuite bath, which is accessed via an exterior travertine stairway and a common breezeway. The house is very comfortable and well equipped, and each bedroom is air-conditioned. To capture the island breezes, it is completely screened, and each room contains a ceiling fan.
Owner manages home - Specific Cancellation Policy.
Blue Agave Rates
2021 Rates
Aug 1 to Dec 24 $600 ni or $4200 per week
Dec 25 to Jan 7 $7500 per week (Sat to Sat)
2022 rates
All rentals are Sat. to Sat.
Jan 8 to April 2 $840 ni or $5880 per week
April 3 to Aug 7 $700 ni or $4900 per week
Aug 7 to Sept 2 $650 ni or $4550 per week
Sept 3 to Oct 28 $600 ni or $4200 per week
Oct 29 to Dec 23 $650 ni or $4550 per week
Dec 24 to Jan 6 $7500 per week
$250 cleaning fee and $50 RSV Fee
Base rate is listed plus 12.5% hotel tax
Rates are weekly – Christmas is a flat rate.
Owner manages home - Specific Cancellation Policy.
CANCELLATION POLICY BLUE AGAVE VILLA:
No refunds.
"Travelers who cancel at least 60 days before check-in will get a 100% credit of the amount that they paid toward a stay at Blue Agave during the next 365 days from their arrival date.
Cancellations within 60 days of arrival will not receive a refund.
If due to COVID, the VI governor cancels visitors' ability to arrive from the mainland, then a 100% refund or choice of rebooking will be given.
Travel insurance is strongly suggested to cover your vacation if weather or personal events prevent air travel. "
Blue Agave Floor Plan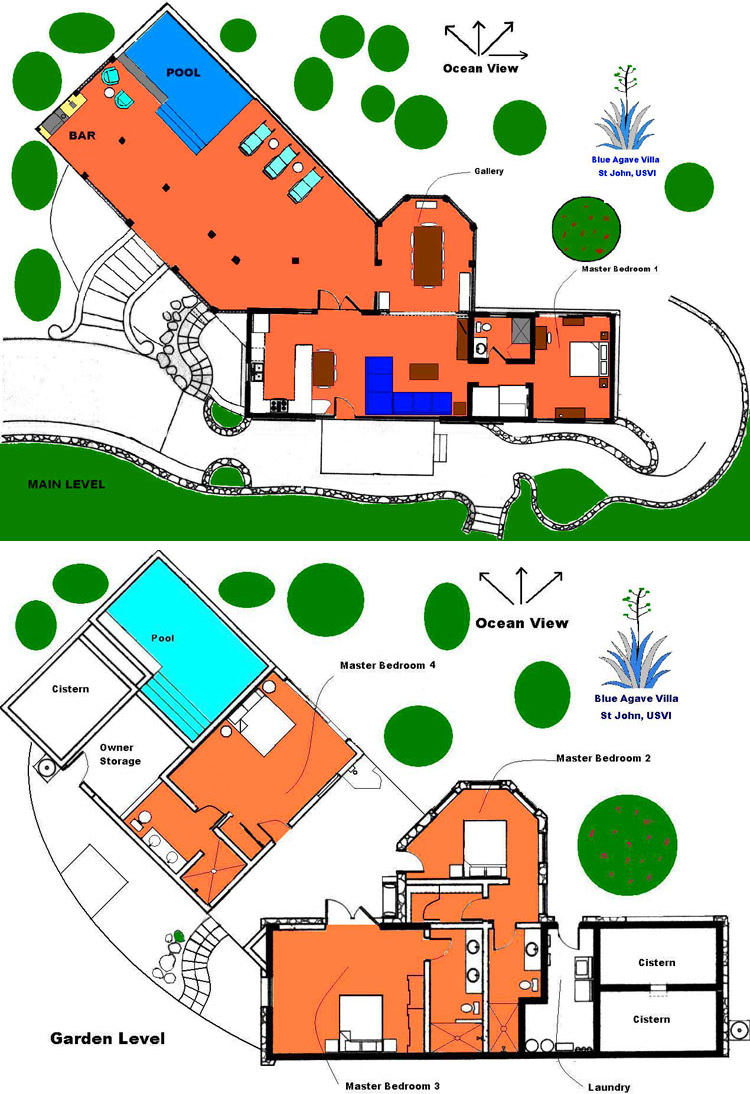 Blue Agave Availability Calendar
Calendar Updated on September 24, 2021 at 10:19 am
September 2021
| | | | | | | |
| --- | --- | --- | --- | --- | --- | --- |
| Sun | Mon | Tue | Wed | Thu | Fri | Sat |
| | | | 1 | 2 | 3 | 4 |
| 5 | 6 | 7 | 8 | 9 | 10 | 11 |
| 12 | 13 | 14 | 15 | 16 | 17 | 18 |
| 19 | 20 | 21 | 22 | 23 | 24 | 25 |
| 26 | 27 | 28 | 29 | 30 | | |
October 2021
| | | | | | | |
| --- | --- | --- | --- | --- | --- | --- |
| Sun | Mon | Tue | Wed | Thu | Fri | Sat |
| | | | | | 1 | 2 |
| 3 | 4 | 5 | 6 | 7 | 8 | 9 |
| 10 | 11 | 12 | 13 | 14 | 15 | 16 |
| 17 | 18 | 19 | 20 | 21 | 22 | 23 |
| 24 | 25 | 26 | 27 | 28 | 29 | 30 |
| 31 | | | | | | |
November 2021
| | | | | | | |
| --- | --- | --- | --- | --- | --- | --- |
| Sun | Mon | Tue | Wed | Thu | Fri | Sat |
| | 1 | 2 | 3 | 4 | 5 | 6 |
| 7 | 8 | 9 | 10 | 11 | 12 | 13 |
| 14 | 15 | 16 | 17 | 18 | 19 | 20 |
| 21 | 22 | 23 | 24 | 25 | 26 | 27 |
| 28 | 29 | 30 | | | | |
December 2021
| | | | | | | |
| --- | --- | --- | --- | --- | --- | --- |
| Sun | Mon | Tue | Wed | Thu | Fri | Sat |
| | | | 1 | 2 | 3 | 4 |
| 5 | 6 | 7 | 8 | 9 | 10 | 11 |
| 12 | 13 | 14 | 15 | 16 | 17 | 18 |
| 19 | 20 | 21 | 22 | 23 | 24 | 25 |
| 26 | 27 | 28 | 29 | 30 | 31 | |