Blue Agave
Location: Chocolate Hole North
View: Hart Bay, Chocolate Hole to St. Thomas
---
Rates from $4900 - $5880 per week
---
Inquire / Book Now
---
Villa Description
Situated about 2 miles from Cruz Bay, this two-level, 4 bedroom, 4 bath vacation home offers privacy and comfort. The upper level contains the master bedroom, kitchen, living room, full bath and deck with pool.
On the lower level are the laundry room and three bedrooms each with ensuite bath, which is accessed via an exterior travertine stairway and a common breezeway. The house is very comfortable and well equipped, and each bedroom is air-conditioned. To capture the island breezes, it is completely screened, and each room contains a ceiling fan.
Owner manages home - Specific Cancellation Policy.
Testimonials
Blue Agave Villa-Dazzling Sunsets. Ocean Views. Pool. Near town.
The common areas were just right for St. John. We spent most of our times on the deck, whether swimming, lounging, or dining. The air flow between the screens in back and sliders in front made the evening breezes cool everything off in the living/kitchen area. Well stocked kitchen! We did much of our own cooking so this was appreciated. Bedroom setup gave everyone privacy. If/when we go back, I would definitely book there again.
Date of arrival - March 5, 2022
Blue Agave was an absolute dream! Upon arrival off the ferry, the host, Michele, met our group and took us to the house to get settled. Being a group of 8 (4 couples) the house was the perfect set up so we could have our own space and still be part of the group. The views were magnificent, and the layout of the outdoor patios and pool area was perfect. There was ample seating available for outdoor use, and a binder listing any pertinent information about the island from excursions to food was the icing on the cake. The house was clean and well kept. They even had beach towels for us to use, as well as coolers and beach chairs to take to the beach. Our only complaint was that we couldn't stay longer! We are so thankful we found Blue Agave – it's definitely a 5-star stay!
Date of arrival - February 19, 2022
Read More
Blue Agave Rates
All rentals are Sat. to Sat.
Winter Season Jan 2 to April 16
$5880 per week or $840 ni
Summer Season
April 17 to Dec 16
$4900 per week or $700 per night
Christmas Week
Dec 17 to Dec 26
$7500 per week
New Years Eve Week
Dec 26 to Jan 2
$7500 per week or $1071 per ni.
$250 cleaning fee and $50 RSV Fee
Base rate is listed plus 12.5% hotel tax
Taxes and Fees
12.5% Hotel Tax in addition to rental rate
$50 Reservation Fee Non-Refundable
Rates are subject to change.
Rental and Cancellation Policy
50% deposit of rent and $50 Reservation Fee required to confirm booking.
Balance is due within 60 days of arrival date.
Reservations within 60 days of arrival require 100% of rent & Reservation Fee.
We prefer payment by check, if using a credit card there is a 5% CC
Cancellations will incur a 20% Cancellation Fee.
No refunds will be given unless exact dates are re-rented.
Trip Cancellation Insurance is highly recommended year round.
Blue Agave Floor Plan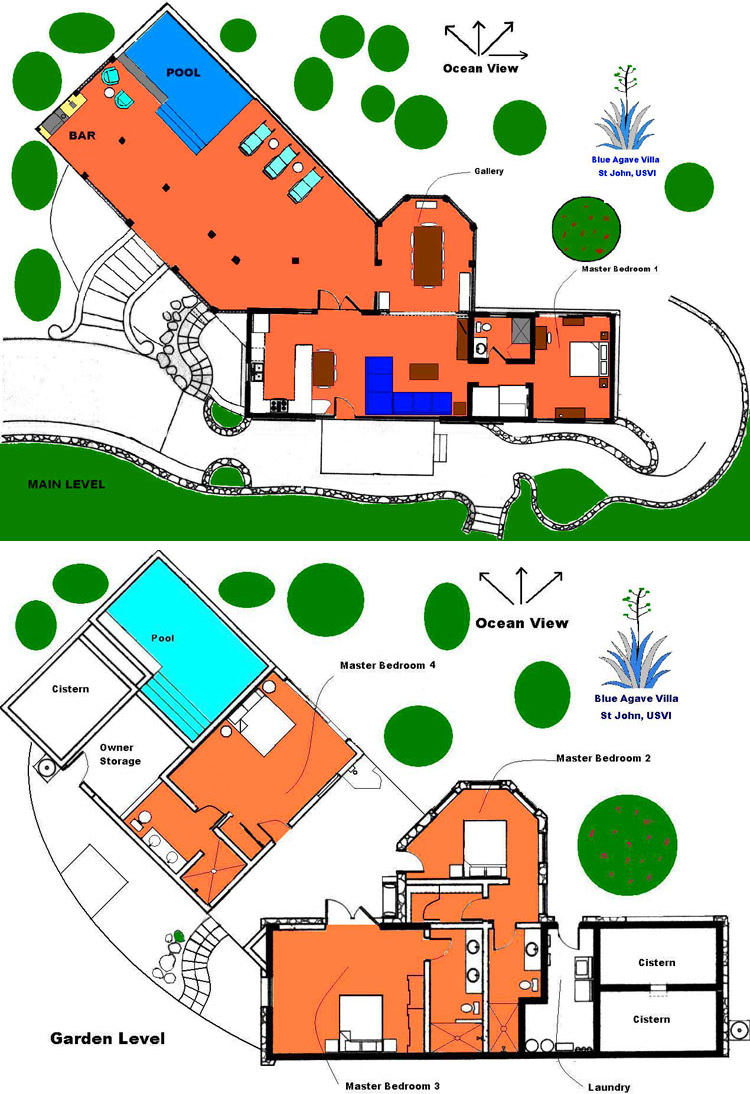 Blue Agave Availability Calendar