Blue Agave
Location: Chocolate Hole North
View: Hart Bay, Chocolate Hole to St. Thomas
---
Rates from $4900 per week
---
Inquire / Book Now
---
Villa Description
Situated about 2 miles from Cruz Bay, this two-level, 4 bedroom, 4 bath vacation home offers privacy and comfort. The upper level contains the master bedroom, kitchen, living room, full bath and deck with pool.
On the lower level are the laundry room and three bedrooms each with ensuite bath, which is accessed via an exterior travertine stairway and a common breezeway. The house is very comfortable and well equipped, and each bedroom is air-conditioned. To capture the island breezes, it is completely screened, and each room contains a ceiling fan.
Owner manages home - Specific Cancellation Policy.
Blue Agave Rates All rentals are Sat. to Sat. Winter Season Jan 2 to April 16 $5880 per week or $840 ni Summer Season April 17 to Dec 16 $4900 per week or $700 per night Christmas Week Dec 17 to Dec 26 $7500 per week New Years Eve Week Dec 26 to Jan 2 $7500 per week or $1071 per ni. $250 cleaning fee and $50 RSV Fee Base rate is listed plus 12.5% hotel tax Rental and Cancellation Policy 50% deposit of rent and $50 Reservation Fee required to confirm booking. Balance is due within 60 days of arrival date. Reservations within 60 days of arrival require 100% of rent & Reservation Fee. We prefer payment by check, if using a credit card there is a 5% CC Cancellations will incur a 20% Cancellation Fee. No refunds will be given unless exact dates are re-rented. Trip Cancellation Insurance is highly recommended year round.
Blue Agave Floor Plan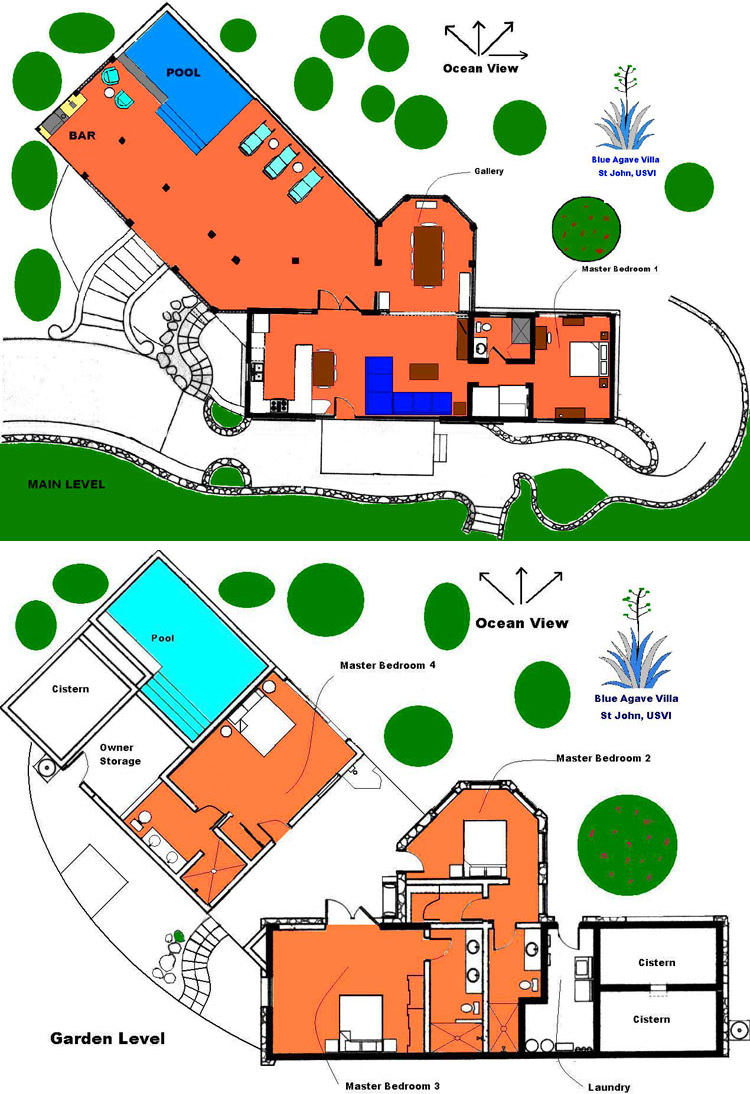 Blue Agave Availability Calendar
Calendar Updated on December 06, 2021 at 08:17 am
December 2021
| | | | | | | |
| --- | --- | --- | --- | --- | --- | --- |
| Sun | Mon | Tue | Wed | Thu | Fri | Sat |
| | | | 1 | 2 | 3 | 4 |
| 5 | 6 | 7 | 8 | 9 | 10 | 11 |
| 12 | 13 | 14 | 15 | 16 | 17 | 18 |
| 19 | 20 | 21 | 22 | 23 | 24 | 25 |
| 26 | 27 | 28 | 29 | 30 | 31 | |
January 2022
| | | | | | | |
| --- | --- | --- | --- | --- | --- | --- |
| Sun | Mon | Tue | Wed | Thu | Fri | Sat |
| | | | | | | 1 |
| 2 | 3 | 4 | 5 | 6 | 7 | 8 |
| 9 | 10 | 11 | 12 | 13 | 14 | 15 |
| 16 | 17 | 18 | 19 | 20 | 21 | 22 |
| 23 | 24 | 25 | 26 | 27 | 28 | 29 |
| 30 | 31 | | | | | |
February 2022
| | | | | | | |
| --- | --- | --- | --- | --- | --- | --- |
| Sun | Mon | Tue | Wed | Thu | Fri | Sat |
| | | 1 | 2 | 3 | 4 | 5 |
| 6 | 7 | 8 | 9 | 10 | 11 | 12 |
| 13 | 14 | 15 | 16 | 17 | 18 | 19 |
| 20 | 21 | 22 | 23 | 24 | 25 | 26 |
| 27 | 28 | | | | | |
March 2022
| | | | | | | |
| --- | --- | --- | --- | --- | --- | --- |
| Sun | Mon | Tue | Wed | Thu | Fri | Sat |
| | | 1 | 2 | 3 | 4 | 5 |
| 6 | 7 | 8 | 9 | 10 | 11 | 12 |
| 13 | 14 | 15 | 16 | 17 | 18 | 19 |
| 20 | 21 | 22 | 23 | 24 | 25 | 26 |
| 27 | 28 | 29 | 30 | 31 | | |