Idyllic Villa
Great Cruz Bay | 3 Bedrooms | 3 Bathrooms | Sleeps 6
Idyllic Villa is completely remodeled with all new furnishings and appliances, A/C throughout,3 BR home with a private pool and large deck area nestled on the ridge overlooking Great Cruz Bay, just a few minutes from town and the ferry dock.
Rates start from $3094 Low Season
and $5859 per week High Season
Plus 12.5% hotel tax
---
Inquire / Book Now
---
Pool A/C Throughout Pets Not Allowed
Children Welcome Non Smoking
Villa Description
Idyllic Villa is Newly remodeled with all new furnishings and appliances with new coral tiled pool deck. (Pool cabana to rebuilt in the near future). Located in a quiet residential area with walking access to two beaches, the Westin Resort complex and a short drive to the spectacular North Shore beaches and the National Park.
The indoor living area is furnished in cool, island colors, with wrapped sea grass furniture and artwork complimenting the natural beauty of St. John..the 4 panel slider opens fully onto the upper deck and is also screened.
Testimonials
"Idyllic was perfect for the 5 of us. LOVED the back deck and enjoyed coffee there every morning enjoying the view and calm serenity of the quiet bay. We snorkeled for the first time…Loved the pool set up, Loved the house set up… thanks for an unforgettable week!"
Great property !
We had an amazing stay in St John at Idyllic. The property was perfect for my family of 6. The kitchen was stocked when we got there, with cold beer and wine waiting. The space allowed for a teenager den. And, the kids loved the pool! Perfect to unwind after long days of hiking and swimming!
08/22/2019 at 10:50 PM
Idyllic
We've rented this villa several times. We love the beautiful view of the harbor with St Thomas in the background which we can enjoy while dining on the covered deck. The villa is immaculate and tastefully decorated. We love everything about it!
07/30/2019 at 1:07 PM
Perfect family villa!
We had a wonderful week at Idyllic Villa! The property manager was very helpful and all of our needs were accommodated for our family with 4 children. The kids loved the pool and we loved the incredible view! We would definitely stay here again!
07/13/2019 at 12:22 AM
Read More
Weekly Summer Rates
April 16-Dec.18
1-BR $3094,2BR $3675,3BR$4025 per week
plus 12.5% hotel tax
No arrivals on July 4th or Thanksgiving Day and 1 week minimum stay for July 4th or Thanksgiving week
Weekly Winter Rates
Jan 3 - April 16
1-3BR $5859 per week
plus 12.5% hotel tax
Christmas/New Year's
Dec 19 - 26 or Dec 26 to Jan 2nd
1-6 Guests $6159 per week
plus 12.5% hotel tax
Non-commissionable
Taxes and Fees
12.5% Hotel Tax in addition to rental rate
$50 Reservation Fee Non-Refundable
Rates are subject to change.
Rental and Cancellation Policy
50% deposit of rent and $50 Reservation Fee required to confirm booking.
Balance is due within 60 days of arrival date.
Reservations within 60 days of arrival require 100% of rent & Reservation Fee.
We prefer payment by check, if using a credit card there is a 5% CC
Cancellations will incur a 20% Cancellation Fee.
No refunds will be given unless exact dates are re-rented.
Trip Cancellation Insurance is highly recommended year round.
Idyllic Villa Floor Plan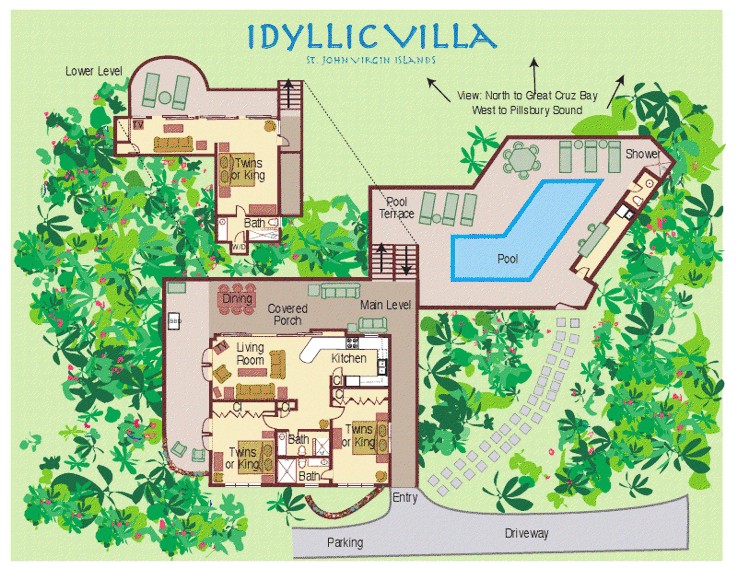 Idyllic Villa Availability Calendar
Idyllic Villa Features and Amenities
New kitchen with granite counter tops, lp gas stove/oven, microwave, toaster oven and toaster, blender, drip coffee maker, full size frig.
Cable TV, DVD/ VCR, CD/radio in Living room, phone and high speed DSL line,
BBQ
All linens, washer/ dryer
A/C in entire house
Two Main level bedrooms have two twins which make to king with
linens
Master suite: mini-frig, microwave, Cable TV/VCR, king bed
Outdoor covered dining deck
Beach chairs, cooler and beach towels
Large private pool (30x11x4) with outdoor rinse shower
Idyllic Villa Photo Gallery
Idyllic Villa Testimonials
7/2/2014
Idyllic is amazing! The beaches are beautiful. Thanks to Lisa for all here assistance while here!
Jean and Allen Ohio
6/21/2014
This was our first trip to St John- we had heard so much about it, and now we see what the big deal is! Idyllic was perfect for the 5 of us. LOVED the back deck and enjoyed coffee there every morning enjoying the view and calm serenity of the quiet bay. We snorkeled for the first time…Loved the pool set up, Loved the house set up… thanks for an unforgettable week!
Mark and Kathy NC
5/27/2014
Idyllic villa was a beautiful paradise for our family to stay. We are most of our meals here on the porch enjoying the sunset. Our adventures were all over the island..thank you for the delicious treats upon our arrival. Your house was a relaxing oasis for us all!
Mark and Beth Kansas
4/26/2014
Had a great week with beautiful weather. The house was just right for us and we would choose it again! A fantastic island with lots to see and do but still unspoiled. Idyllic is the right word to describe this!
The A's Atlanta, Georgia
4/18/14
Well here we are for our third visit. We did it! As promised we brought our kids (15 and 14), and, as always, had an Idyllic time! We started our week snorkeling….we enjoyed many dinners on the deck overlooking Great Cruz Bay…Thank you Lisa and Idyllic for 3 wonderful, memorable vacations, first our honeymoon, second for our ten year anniversary and now with our wonderful kiddos. Time marches on. Thank you Thank you! The G's Vermont
11/24/2013
Our family stayed at Idyllic for Thanksgiving. We lived every minute. We've stayed on St. john many over the last 30 yrs. and keep coming back. Of all the villas we've stayed at Idyllic was perfect! We had lots of rain showers, so the big covered porch was perfect for waiting for the rain to pass while sipping cocktails. Kids loved the pool and playing "store" in the cabana! There is so much beauty to be had on St. John!.. Band L families Rhode Island
December 2013
Hi Lisa-
Just wanted to be sure to say Thanks for all your help organizing our visit to St John and Idyllic - the villa was beautiful and it had everything we could want - We all agreed that you and Vacation Vistas are the best villa rental company we have dealt with yet!
November 2013
Idyllic was Ideal!
My parents, my husband and I and my two young children (4&6) stayed at Idyllic this past November. After many trips to St. John, and many prior villa rentals, Idyllic really impressed us. The layout was perfect- two rooms off the main living area for my husband and I with the kids, and then another bedroom with couch, small fridge and bathroom for my parents downstairs. We are a beach-loving family, but found ourselves at the Villa a few days- completely content. We had one issue with an air conditioner, and Lisa from Vacation Vistas had a brand new a/c installed within hours of our phone call. We will definitely be visiting Idyllic again- we hated to leave!!
Bon from Rhode Island
April 2013
The views from this villa are amazing. We have been staying with Vacation Vistas for years now. But this was our first time staying at the Idyllic. But it won't be our last! The layout of the Idyllic is so convenient. But I think our favorite part of the villa was the pool and the pool cabana. We spends days and evenings in the pool. Perfect amount of sun and shade. Lisa with Vacation Vistas is the best, hands down!
April 2013
"Great for 3 Generation Family"
I had the pleasure of staying Idyllic Villa this past April during school vacation week. I traveled from CT with my husband and two teenagers, and my parents flew in from Florida to stay with us. The setup was perfect for our group. The Main floor had two bedrooms both with King Beds that could be converted to two twins, and each had a private bath. The downstairs (below the main floor) had a King suite, with bathroom, washer and dryer and its own deck. My parents loved having their own private space downstairs. Our Favorite spot by far was the spacious porch with the amazing view. Having our own private pool with lounge chairs was also great. The Kitchen was fully equipped and had everything you could possibly need.
Jackie Harrison was wonderful, meeting us at the Ferry to grab our luggage, directing us to the rental car location she recommended, and leading us to the Villa. She reviewed the ST. John Map with us, and made great recommendations. One day the Wifi needed to be reset, we sent her an e-mail, and it she fixed it immediately.
This is the first time we had opted to rent a Villa in the Caribbean vs. staying at a resort or going on a cruise, and now I can't imagine doing it any other way. We would wake up when we wanted, read and enjoy our coffee and breakfast with a great view, and then decide which beach to hit to go snorkeling. We would come home relax by the pool, do some more reading and relaxing, and then decide whether to cook and eat on our beautiful porch, or to find a nice restaurant. I would absolutely rent with Vacation Vista's again, and would love to return to Idyllic.
August 2012
Idyllic was perfect for our stay. We had two adults who stayed in the suite downstairs and four teens who shared the two bedrooms/two baths upstairs. Villa is great - clean, a/c, pool, all the amenities you need. Easy drive to Cruz Bay - no crazy driveways or roads. We loved all the animals we came across at the villa: several iguanas who hang out in the trees to the left of the deck, a million banaquits who come every morning if you put out a bowl of sugar and a bowl of water, we even had a deer in the backyard. Saw wild donkeys on our fun ride out to the East End. Love, love, love St John - no reason to ever go anywhere else.
From Stonington, CT
July 2011
Our ten days here was just super! Your house is beautiful and we loved it. This was our 5th time renting and this is my favorite so far! We hope to be back! All of your amenities were great!
K&R
April 2011
We have had an absolutely perfect week here. Sad to be leaving!
The L's
April 2011
The Two of us had a wonderful time on spring break-our last before retiring. We hiked, snorkeled, swam, ate, drove all over the island and fed bananas to the birds. R hooked the iPod up to the speakers in the pool house and we listened to jazz and island music the days we spent here .. we..read and looked out over Great Cruz Bay from every seat and drank pina coladas and mojitos. The view from here is spectacular day or night, be sure to check out the stars! Thanks for all the beach towels and providing beach chairs and a cooler. I'm sure we'll be back.
R&N
March 2011
Just wanted you to know how very much we appreciated all the arrangements and accommodations you made for us for our wonderful trip to St.John. "Idyllic" is a perfect place for a three-generation family; we loved the pool (and plentiful beach towels), the decks, the view, proximity to town, and the way the bedrooms and living areas are arranged. We enjoyed our taxi rides with Bazil and found it so convenient to have that and our rental car all arranged.
Thank you very much,
Ann and family from Maine
Feb 2011
Idyllic was awesome! We were excited about the pool. My Grandfather had a laugh in the pool- we dove off the rafts, played "Cruise ship and "supersonic action"! My Grandmother loved the birds that came and one bird even drank some coffee. And last night we even saw three parrots fly by!
Peter
---