Serenity Villa
Great Cruz Bay | 4 Bedrooms | 4 Bathrooms | Sleeps 8
This Cliffside waterfront villa has been completely remodeled and furnished as of October 2018. 4th bedroom just completed March 2023!!!!!
Large fully air-conditioned great room, multiple dining options, abundant decks, 4 master suites with a/c. Two King bedrooms upstairs and one King bedroom downstairs and 1 twin or King bedroom downstairs, all surrounded by lovely native gardens. A lovely pool and sunset views without end! WIFI internet, cable TV in living room.
Summer/Fall Rates
1BR $3493
2BR $3997
3BR $4494
4BR $5200 per week

Winter/Spring Rates
1BR $5495
2BR $5985
3BR $6335
4BR $6800 per week

Christmas week/ New Years Week
$8200 per week plus 12.5% hotel tax
---
Inquire / Book Now
---
Pool A/C Throughout Small Pets Welcome
Children Welcome Non Smoking
Serenity Villa Description
This villa has gorgeous, well established, flowering gardens surrounding the home.  Now 4 bedrooms!!!
The entrance garden has an additional seating area for alfresco cocktails, breakfast or lounging in the hammock.
Serenity Villa sits high on the cliffside of Maria Bluff
(the peninsula between Great Cruz Bay and Chocolate Hole). Convenient to Cruz Bay, yet located in one of St. John's loveliest residential neighborhoods Serenity is island living at its best.
Testimonials
AMAZING VIEWS!! 5 stars
This property has amazing views of several islands just out front. We had 3 rainbows end just in front of the house in a one-week stay. Beds are comfy and its nice having separate sleeping quarters. Easy to get to Cruz Bay and nearby grocery stores. We had our 2 sons and their significant others. Everyone loved it. This was our 3rd trip to SJ. Would stay here again. 
1/26/2023
 5/5 stars
Perfect House
Our group of 2 couples had an amazing week at Serenity. The house was beautiful and well stocked and had everything we needed. Jackie and her team were very responsive and great to work with. We will be back!
5/1/2022 at 12:50 AM
Serenity Villa Great Get Away
We had a fabulous time! Jackie was a great host and supplied everything you could need- beach chairs, coolers, umbrella, etc. The kitchen was stocked with many utensils and dish ware. 5 star rating!
4/25/2022 at 11:00 AM
 5/5 stars
Paradise
We have been visiting St. John for 32 years and this was the best property we have stayed in…cleanliness, views, sunsets, comfort…all fantastic. Jackie the property manager was very helpful…thank you!
3/16/2022 at 12:34 PM
Fantastic property and location. The views are stunning and the accommodations are excellent.
Easy from the start. Great management that is responsive and flexible. Property was well kept, clean, and just as advertised. Highly recommend.
1/3/2022 at 3:36 PM
 5/5 stars
Wonderful home
We had an amazing time in St John and our stay at Serenity was wonderful. Jackie was very helpful and the welcome items were much appreciated. Everything went smoothly at check-in with Jackie meeting us along the way to escort us to the house and give us an overview of the villa. Sunsets from the patio were amazing and everything from the bedrooms to the kitchen to the outside grill (brand new Weber gas grill) were excellent. Definitely a place we would recommend and would love to return to if possible.
12/4/2021 at 6:15 PM
5/5 Stars!!!
Perfect location!
We just got home after a wonderful week at Serenity. The villa is beautiful and well stocked. Plenty of beach chairs, coolers, beach umbrella and towels for the beach. The beds were very comfortable and the air conditioners in every room worked well. Jackie, the property manager was wonderful and responded quickly when we had questions prior to the visit and during. She helped us with arranging taxi pick up from the ferry dock as well as food provisioning. When we arrived, Jackie met us at the car rental place and escorted us to the villa. The villa has spectacular views and beautiful sunsets. Its located in a quiet neighborhood very close to downtown Cruz Bay and beaches. We enjoyed our stay and hope to be back again soon! Thanks again!
04/26/2021 at 4:43 PM
March 29 - April 5, 2021
San Diego,CA
Regular visitors to visit friends and family - Serenity Villa was amazing! Opening the sliders first thing each morning to wake up to the crashing waves. Coffee on the patio, cocktails on the patio, cocktails by the pool... Birds, iguanas, lizards, Fishing boats, power boats, party cats, luxury yachts, Just some of the sights sounds and memories from a great stay at a great place. Sunrise to sunset - Serenity is a special place. Thanks to Jackie for delivering all we needed and more. Can't wait to do it all again! Cups Up !!
T&L
Jan 3-10, 2021 Natick,MA
We loved Serenity Villa, so much space to hang out both inside and out and the views are amazing. We made sure we were on the patio each day for sunset! The house was very well stocked and the welcome basket of fruit and other goodies left in the fridge were perfect.
5/5
Spectacular
Our group of 6 was ecstatic to stay at Serenity! The view alone is incredible. We really enjoyed the outdoor areas immensely. It's great having air conditioning & a bathroom/shower for each room. The kitchen was well stocked. Jackie is responsive and very helpful. She even had fresh flowers and the table beautifully set for our arrival. That was a first 🙂 We will be back! Thank you again.
02/12/2020 at 11:23 PM
Aug 16, 2020 Phil, PA
We loved every minute at the Serenity Villa. The views are spectacular and we really enjoyed the view of Dog Island and Little & Great St. James Islands.
The villa is so convenient to shops and restaurants in Cruz Bay and served as a great spot to visit the islands. We were so please to find all of the extras that come with the house - from the wonderful gift basket to all the unexpected items like plastic bags and coffee filters and all of the condiments.
Jackie was also great to work with - her responsiveness is underrated and made the visit even better. We will be back!
D&M
"Once again Serenity has been an amazing place to rejuvenate! Waking to the incredible views, coffee in the in the pool and dinners on the deck was just what the Dr. ordered. Thanks for all the care given in making it so easy to relax!"
11-30-2020, Lexington KY
Our third trip to St. John but our first with family. My husband and I brought our 21 & 23 year old kids and their significant others for 8 days of relaxation and yes to celebrate Thanksgiving and my birthday.
The house worked great for 3 adult couples and we especially liked the privacy of the master suite downstairs.
We appreciated the games in the cabinet and found the house to have most all we need.
We have stayed in Jackie's villas 3 times now and have recommended them to many others. Can't wait for next trip back!
G&T
Wonderful property, outstanding view!
The property was just as pictured. The view is spectacular! You can hear the waves crashing on the rocks down below the villa which is such a relaxing sound to hear. The pool water temperature was perfect, we loved the bench inside the pool for conversation and reading. The villa is well equipped with all appliances & kitchen utensils you need for cooking. The neighborhood is upscale and the road leading to it is one of the better side roads we have traveled on to a villa. Parking is easy---no steep driveway for this villa. St. John Market is only about 5 min away so easy access for groceries and we were only about 10 min from Cruz Bay. The air conditioning in the main house was excellent and fair in the bedrooms. You can only access the WiFi in the main house, not in the bedrooms but it worked well. The beds were comfortable. Jackie and her team were wonderful, easy to deal with, and checked in on us regularly. Overall, we absolutely LOVED Serenity Villa and would definitely return again!! We could not get enough of the view and loved staying at the villa all day reading, relaxing, and enjoying the pool. Highly recommended!!
11/19/2019 at 11:05 PM
Spectacular Views
This was our third trip to St. John and bu far this was the best place we stayed. They views are unbelievable, the property team had goodies waiting for us upon arrival and everything was perfect!
08/14/2019 at 1:30 AM
Read More
Serenity Villa Rates
Rates are based on number of bedrooms used- we rent to only one group at any one time.
Weekly Summer/Fall Rates
April 16 - Dec 18
1 bedroom - $3493
2 bedrooms - $3997
3 bedrooms - $4494
plus 12.5% hotel tax
No arrivals on July 4th or Thanksgiving Day and 1 week minimum stay for July 4th or Thanksgiving weeks
Weekly Winter/Spring Rates
Jan 3 - April 15
1 bedroom - $5495
2 bedrooms - $5985
3 bedrooms - $6335
plus 12.5% hotel tax
Christmas/New Year's Weeks
Dec 19 to Dec 26 or Jan 26 to Jan 2nd
1-6 Guests $7300 per week
plus 12.5% hotel tax
10 night minimum if taking both holidays
Non-commissionable
Taxes and Fees
12.5% Hotel Tax in addition to rental rate
$50 Reservation Fee Non-Refundable
Rates are subject to change.
Rental and Cancellation Policy
50% deposit of rent and $50 Reservation Fee required to confirm booking.
Balance is due within 60 days of arrival date.
Reservations within 60 days of arrival require 100% of rent & Reservation Fee.
We prefer payment by check, if using a credit card there is a 5% CC
Cancellations will incur a 20% Cancellation Fee.
No refunds will be given unless exact dates are re-rented.
Trip Cancellation Insurance is highly recommended year round.
Serenity Villa Floor Plan-Two King bedrooms on main level, on the lower level 2 BR's one is a King bedroom located under the pool deck and new 4th BR can be King bed or twins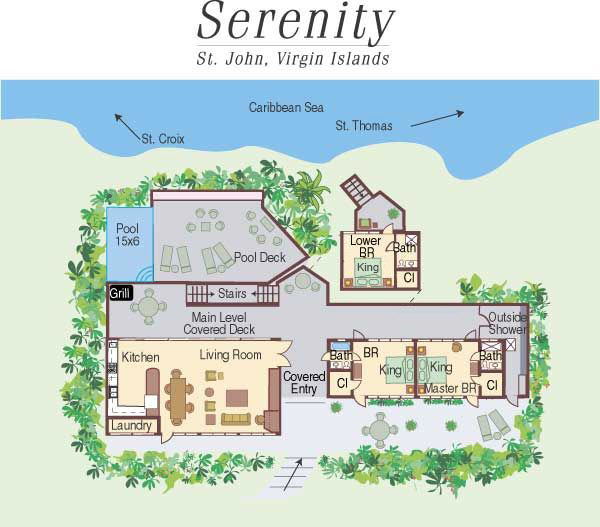 Serenity Villa Availability Calendar
Serenity Villa Features and Amenities
Fully equipped kitchens including microwave and dishwasher
All linens and towels
Bedroom safe
Gas barbecue grill
TV, VCR most with cable TV
Stereo, Tape Deck, DVD & CD players
Beach Towels
Beach chairs
Coolers
Fully A/C'd - new A/C in living room
3 bedrooms, 3 bathrooms, pool, a/c in bedrooms, grill, cable or satellite TV, WiFi, children welcome, smoking outdoors only, safe in bedroom
Serenity Villa Photo Gallery
Serenity Villa Testimonials
June 2-8, 2014
Once again Serenity has been an amazing place to rejuvenate! Waking to the incredible views, coffee in the in the pool and dinners on the deck was just what the Dr. ordered. Thanks for all the care given in making it so easy to relax!
Your Serenity Devotee's Megan and Dan New Mexico
April 5-12, 2014
Thank you for our week of true "Serenity". The villa was perfect for our stay and the view was breathtaking. It will be hard to head home and not be able to open our doors to see amazing blue water, lush green foliage and brilliant sun at all times. But thankfully we will always have our memories (and hopefully many return trips)!
The little lizards and iguanas were adorable! I am not usually a reptile fan but truly they were fun to watch and peaceful in their own way.
For a small island it is amazing how much there is to do!
Thank you Lisa and Captain Bob (Tropic Power Boat rentals) for a truly peaceful and beautiful week!
Mark, Amy, Beth, Damian, Jamie and Brian
March 17-27, 2014
WOW! This was our first visit to St. John and it was fantastic! Serenity was a wonderful house with a phenomenal view! We have never been to a house with such a view before! It was a wonderful treat. The iguanas came to the pool deck every day (3 total) and enjoyed basking in the sun. We named them! Wish we could stay longer to see even more!
The Daniel's
Feb 9-16, 2014
This was our first visit to St. John. Serenity was a fantastic place to have as a home base as we explored this wonderful island. We loved swimming in the pool and spending time watching the passing boats and the hypnotically beautiful water and sky. The iguanas and other wildlife were a highlight as well. We had a great stay and are sorry to see it come to an end! Thank you so much for making your home available as a home away from home in St. John!
Elizabeth and Peter DC/Chicago
February 2014
Serenity' says it all - wonderful & serene!"
This was our first time staying on St. John and we were so happy with how our rental of Serenity turned out. (I think I researched every single villa on the island in planning our trip!) I stayed there with my boyfriend and the house was a perfect size for us. It is located between Great Cruz Bay (where the Westin is) and Chocolate Hole in the Maria Bluff neighborhood - it's less than a 10-minute drive to town, but feels a world away. It sticks out on a leafy bluff so that you have unobstructed views of the water and of St. Thomas, dramatic views at sunrise *and* sunset, and don't see your neighbors. I liked facing out on the open water rather than into one specific bay - it felt very private that way (no staring onto the decks of moored boats 🙂 and vice versa :)) and the view was always changing as various sailboats, power boats, and cruise ships went by. The view was so serene, in fact, that we spent a lot more time at 'home' than we had planned - we would find ourselves sitting on the deck or lounging in the pool just gazing out at the water and then finding that a lot of time had gone by. Thus, we found some of our ambitions dissolving along with our daily-life stress. 🙂 We kept thinking we saw whales in the distance, but it may have been relaxation-induced hallucinations. 🙂
We loved hanging out on the covered part of the patio above the pool deck, as well as in the pool, which was great - bigger and deeper than it looked in the photos. It was possible to actually do some real swimming in this pool. There were also pool floats that we enjoyed using. Many iguanas came to the pool area to sun themselves during our stay, which for me was a big highlight of the trip since I love reptiles. We also had a few tiny lizards in the house - which I was also very happy about since I figured they would eat any unfriendly biting bugs that might be around. Happily, we did not have any issue with mosquitoes or other bugs while we were there (which is definitely worth mentioning since I can be a mosquito magnet :)). The window screens were in good condition and we enjoyed the constant breezes (and never had to turn on the a/c in the main house - just in our bedroom pod).
The bed we used was very comfortable (in the furthest pod from the main house). The wifi was strong and I got a strong 4G signal on at&T; (throughout the island, actually). Having never stayed in a place using cistern water, I was a bit hesitant about how that would work, but we never ran out of water and the water pressure in the shower was decent. Overall, it was a very comfortable house that made a great home-away-from home while on STJ - Serenity lives up to its name!
Taking care of booking and all the logistics was a breeze. Lisa (of Vacation Vistas) was great to work with and made everything easy. She had many excellent recommendations of things to see and do and was just all-around nice! We would definitely work with her again in the future.
All in all, we were very, very happy with Serenity. Writing this review is bringing back good memories but also making me sad that we had to leave! 😉
July 10-19, 2013
Fabulous stay! View is breathtaking. Peace abounds in this place with the hypnotic sounds of the waves and birds, frequent visits by reptile friends- one day we counted 5 iguanas friendly and curious about us. Had everything we needed for grilling home cooked meals-ate out one evening only! Wonderful farsight and planning, Lisa! Favorite time was early mornings before sunrise…. Love this ho9me, thank you for sharing it with us!
The R's Texas
July 2013
Now that the dust has settled from our whirlwind trip to paradise, I wanted to drop you a line to say "thanks" for everything!
Serenity villa certainly lived up to its' name---quiet, lovely, and the view phenomenal! It was very well stocked with all we would need....even down to a variety of games (which we played one day because too sunburned to get out) and art canvas for the creative spirit. Even a small library suited to a variety literary tastes.
…Our last day there it stormed ALL DAY which was kind of nice to just pack and read while we watched the lightning on the water outside. The power went out for about 30 minutes but no big problem. …
My favorite memories out of all the exciting things we did were the early sunrise times out on Serenity's deck: cup of coffee in hand, visited by all sorts of bird friends singing songs to ring in the day, white butterflies everywhere, and every now and then a wild parrot to disrupt the reverie----these things I remember with the greatest joy and wistfulness, for it is so far removed from this concrete jungle I live in here!
Thank you for everything. For all the thought you obviously have given to the needs of the visitors at the villa, for providing transportation with Bazile and his taxi service (especially won points in my book for the "First Lady" bit), for the arrangements made with the car rental prior to our arrival, and for the Big Notebook full of helpful information to the curious visitor.
You are a first class operation!
Peace to you all,
Melinda (and all of the R's)
P.S. The Iguanas were a big hit with the college group!
June 20th 2013
We love this house and it is very comfortable and the view is wonderful! Unfortunately I have not the good words to describe it as your friends. Anyway it's the 10th year we've come to St. John and this is the best house we rent! We were delighted, so delighted! We have make the reservation for next year! We want to say a big thanks to Lisa who was always there for us!
The P's France
April 2013
Super place with great views, private, and close to all.
I surprised my husband for his 50th. Our family (2 kids aged 9&13) and another family of same size and age stayed here. We needed to rent a cot and that was easy. You don't speed a ton of time in the rooms any way. Most time was spent on pool deck or under cover of the deck. It was so beautiful the views of St Thomas and beyond. The kids loved the pool and the place was so easy to come and go. We would rent this place again in a heartbeat. It was very clean and comfortable. Can't wait for our next trip.
from Stratham, New Hampshire
Nov 2010
Our first stay in St John. The house was very convenient to everything in town. The view from the balcony was absolutely perfect! We slept very good at night with the cool breeze and the sounds of the ocean, best rest we've had fro awhile! Mike and Sherri
July 2010
Wonderful weather everywhere including the decks of Serenity. The house absolutely wonderful, convenient, everything we needed, peaceful nights and wonderful views in the mornings.
The S's
July 2010
Just wanted to let you all know that we truly enjoyed our stay at Serenity Villa and St. John. We couldn't have asked for more from the house, and - as far as
St. John - it was a wonderful experience.
We managed to swim and snorkel a few of the beaches, enjoyed the Carnival, took a hike through the park and simply spent the time care- free and relaxed (the latter was the intent of the vacation!). Evenings were spent cooking on the grill, lounging on the deck and just spending some family time and reading.
We are already talking about the possibilities of "going back to St. John."
Thank you for all your assistance and help with the planning.
James S.
April 2010
We have loved our 2nd trip to Serenity, this time with our 2 adult children- we snorkeled everywhere....Hopefully we will be back sooner than four years!
Matt, Rita, Kristen and Norm
Oct 2009
What a fabulous honeymoon! We loved your house and especially your kitchen and pool! Thank you for letting us use your house!
Jon and Rachel
July 2009
What an amazing place! We loved the pool and beautiful views! It was certainly a treat to have a/c in the kitchen and living room! Thank you for sharing Serenity with and making it so accommodating. We truly felt at home and couldn't have had a better place!
Ann, Allen and MaryAnn
July 2009
Our family enjoyed a lovely relaxing week here at Serenity. We really liked the privacy of this villa, and the fact that it's enshrouded with such lush vegetation. I especially liked the wild frangipani and bougainvillea. It's a beautiful place, with a spectacular view and we're already thinking about our next trip back!
The D's
May 2009
What a wonderful home,an ideal place to laze away the tensions of the "real world'. Loved it all, the waves, great pool,star gazing, sun decks and shady spot with table to watch sailboats. Visited most beaches..but what we really enjoyed was how quickly we got into the rhythm of the house; sleep late, lots of dips in the pool, grill some burgers for dinner. Our trip was great , hated to leave but can't recommend the house highly enough, everything we could have needed we found in the house.
Pat and Rob
May 24 - May 31 2009
Question: If you want a spectacular view then Serenity is your villa. The fact that it is on the end of a bluff is what sold it for us. The villa itself is lovely, very clean and extremely comfortable. The AC in the living quarters is a plus. I did suggest that a pair of binoculars be placed in the villa because several times we wished we had a pair, cruise ships pass by along with beautifil sailboats. Iguanas will visit the pool area in the afternoon sun but they are quite docile. The pool was refreshing after a day at the beach and the deck is huge. We used the grill and it worked great and the hammock in the back of the house is a delite, very relaxing. Lisa is outstanding as the person who will help you with any question you might have, with your car rental, and acutally anything pertaining to your visit to St. John. The Villa Serenity suits its name to a tee.
Quenton & Jannette L.
April 2009
We thoroughly enjoyed our stay at Serenity. Your home is well named! The location and views unmatched on the island, close to "civilization", but seemingly in the middle of the Caribbean. We loved hearing the waves crash into the bluffs- the higher locations don't have the same "audio". Everything about this house is conducive to relaxation!
Thanks so much for such a well stocked house on our arrival. We rent houses often, and have never arrived to drinks, food, paper products and cleaning items, etc... No need to run to the store immediately upon arrival.
We loved our stay and will likely return!
Bevlyn and Tom
3/22/08 thru 3/29/08
This was our second trip to St John, but the first time we rented a villa. Our rental agent, Jackie Harrison, of Vacation Villas more like a concierge than a rental agent. Lisa hooked us up with a taxi service to and from the airport in St Thomas, a car rental agency in St. John, a guided boat rental, tips on all the best restaurants and shops and even directions to all the great beaches on St. John all at no extra charge. Just an outstanding job Lisa.
The privacy at Serenity surprised us thanks in a large part to renting the lower level bedroom for our teenage daughter and her best friend. They spent allot of time in down their in the evening playing music and laughing, but we hardly heard them. The main part of the villa was very nice and consisted of kitchen, dining area and great room. The pluses far out weighed the minuses (noisy dishwasher). The views from any room are unparallel. The bedrooms were very comfortable and stylishly decorated. The pool was just the right size for cooling off after a long day at the beach. The gas grill was new and worked great. Serenity offered plenty of outdoor furniture for dining or simply sunbathing. Serenity also offered easy access to town. We rate it 4 1/2 stars out of five.
Michael Young
July 28 - Aug 4, 2007
We stayed for a week at Serenity almost 6 months ago. I returned to the website just to see a few pictures and to remember how beautiful it was. The villa was everything we had hoped for and more. If you are contemplating a St. John's vacation you couldn't do better than to book a week at Serenity. The photos give an accurate idea of the place, which is not always the case when you visit hotel websites. Everything was clean, comfortable and in good repair. You'll want to rent a Jeep. The people we worked with at Vacation Vistas could not have been nicer. We felt truly welcomed. I was there with my wife and two teenaged daughters and we all loved every minute. I think we saved money versus a hotel stay. We were able to buy our groceries, which made a big difference. I hope we can manage a return trip soon. If we can, it will be at a Vacation Vistas villa without question.
Terry
---