Villa Bijou
Great Cruz Bay | 3 Bedrooms | 3.5 Bathrooms | Sleeps 6
Villa Bijou is a great house for relaxation, great views and comfort with easy access to town, dining and the north shore beaches and is well appointed with your every need in mind. Completely remodeled with all new appliances.
Summer rate $4494 per week plus tax Winter rate $7742 per week plus tax
---
Inquire / Book Now
---
Pool
A/C Throughout
Pets Not Allowed
Children Welcome
Non Smoking
Villa Bijou Description
3 King Suites, and 3 1/2 baths, with full a/c, lovely pool and sundeck. Freshly painted throughout, all new appliances, beautifully furnished, with native stonework throughout. Large pool and surrounding deck are very private and surrounded by mature gardens.
New Livingroom and dining furniture - pics coming soon!
The Living room and dining area are on the entry level with sweeping views. Each area is furnished with truly comfortable sofas and chairs. Great room consists of living room, dining room and kitchen with sliding glass doors that give the home complete open air living and great breezes make for cool tropical living. Close all the sliding glass doors and the great room is air conditioned. There are ceiling fans throughout giving the home additional air flow.
Testimonials
5/5
Fantastic!
Our family of 5 stayed at Villa Bijou over the Christmas holiday and enjoyed every day of our vacation. The Villa was the perfect fit for our family with 2 college kids and one high schooler. The views were spectacular and the location was ideal for getting into town and to the North Shore beaches. Communication with the property manager was more than I hoped with emails, phone calls and texts leading up to our arrival. Highly recommend.
12/29/2021 at 4:51 PM
Villa Bijou is everything that is in the listing and more. The Villa is on Great Cruz Bay and has an absolutely amazing view. The 3 bedrooms are all amazing with super comfortable king beds. We had great communication with property managers and they were super responsive to any question or requests. We all loved the villa, overall. When I come to St. John again will plan to stay at the villa.
11/13/2019 at 5:38 AM
Great vacation at Villa Bijou
We had a fabulous time with our family of 5 adults. The views are amazing, the kitchen is well stocked, and the location close to town is perfect. It was fun hanging out with the wildlife, and watching sunsets from the pool after busy days filled with hiking, boating and snorkeling on the beautiful island of St John. Highly recommend the villa, and Jackie was a pleasure to work with. We're having a hard time adjusting to being home!
08/16/2019 at 7:58 PM
Perfect Place to Stay!!
We've stayed on island a handful of times and the villas are great here. This one, not short of awesome as well. We had 3 couples so everyone had a full bedroom/bath in privacy and plenty of room to stretch out between the common area and the pool decks. The full slide window in the kitchen/living room brings the outside in and the inside out. What a cool feature to go along with the beautiful sunsets you get to enjoy from the patio. Great Cruz Bay is one of our favorite Bays to stay in and Villa Bijou definitely goes on our list for a repeat stay. As common with most island villas, leftover of beer, booze, wine and more were plentiful upon our arrival, which is always nice while settling in. And of course, we returned the favor with what we couldn't take with us as well. The pool was great, the deck was great and the table out under the gazebo was a perfect touch to take it all in! From the beginning of our connection, Jackie has been superb as an owner and Villa contact. She was helpful in all aspects of our stay, pre-check in and post. She even threw in a couple of favors for us which is always appreciated!! Thank you so very much Ms. Jackie, you are awesome! (And have a beautiful home!) . Cheers!!
07/31/2019 at 7:08 PM
With the hotels on island under repair, we decided to rent a villa for our trip in March 2018. We knew very little about the house or the property manager but it all worked out great. Jackie was very helpful in booking the house and met me at the ferry so we could follow her to the address. While the island's foliage was still returning after the storm, this property was actually in very good shape. The house is well appointed with a nice kitchen and living area, and wonderful views off the back. We opened up the sliding glass doors each day and let the breeze flow though the house. The pool is definitely a highlight, it's a great size and has a nice deep end of ~8 feet. The deck gets afternoon sun which is great after returning from snorkeling/sailing or overlooking Great Cruz Bay with an afternoon cocktail or morning coffee. There was a brief power outage on island while we were there, but handyman Stevie came over and fired up the whole-house generator and we were back in business. A handful of areas of the house need some care (for example, storm damage to an outdoor sink) but nothing essential. I would confidently return to Villa Bijou again.
Date of arrival
March 31, 2018
"Villa Bijou is in a beautiful, convenient spot on a fabulous island. It is the perfect size and configuration for three couples. The layout is extremely comfortable, the entire wall opens to the warm breeze, and the pool is a welcome way to rinse /cool off after a day at the beach. The kitchen is well stocked and easily accommodates multiple cooks. Beds are comfy. Not sure how Villa Bijou could be any better."
Read More
Weekly Summer Rates
April 16 - Dec 18
1-3 bedrooms - $4494
plus 12.5% hotel tax
7 night minimum
No arrivals on July 4th or Thanksgiving Day and 1 week minimum stay for July 4th or Thanksgiving weeks
Weekly Winter Rates
Jan 5 - April 15
1-3 bedrooms - $7742
plus 12.5% hotel tax
7 night minimum
Christmas/New Year's 2019/2020
Dec 19, 2019 - Jan 5, 2020
1-6 Guests $7900 per week
plus 12.5% hotel tax
7 night minimum
Non-commissionable
Taxes and Fees
12.5% Hotel Tax in addition to rental rate
$50 Reservation Fee Non-Refundable
Rates are subject to change.
Rental and Cancellation Policy
50% deposit of rent and $50 Reservation Fee required to confirm booking.
Balance is due within 60 days of arrival date.
Reservations within 60 days of arrival require 100% of rent & Reservation Fee.
We prefer payment by check, if using a credit card there is a 5% CC
Cancellations will incur a 20% Cancellation Fee.
No refunds will be given unless exact dates are re-rented.
Trip Cancellation Insurance is highly recommended year round.
Villa Bijou Floor Plan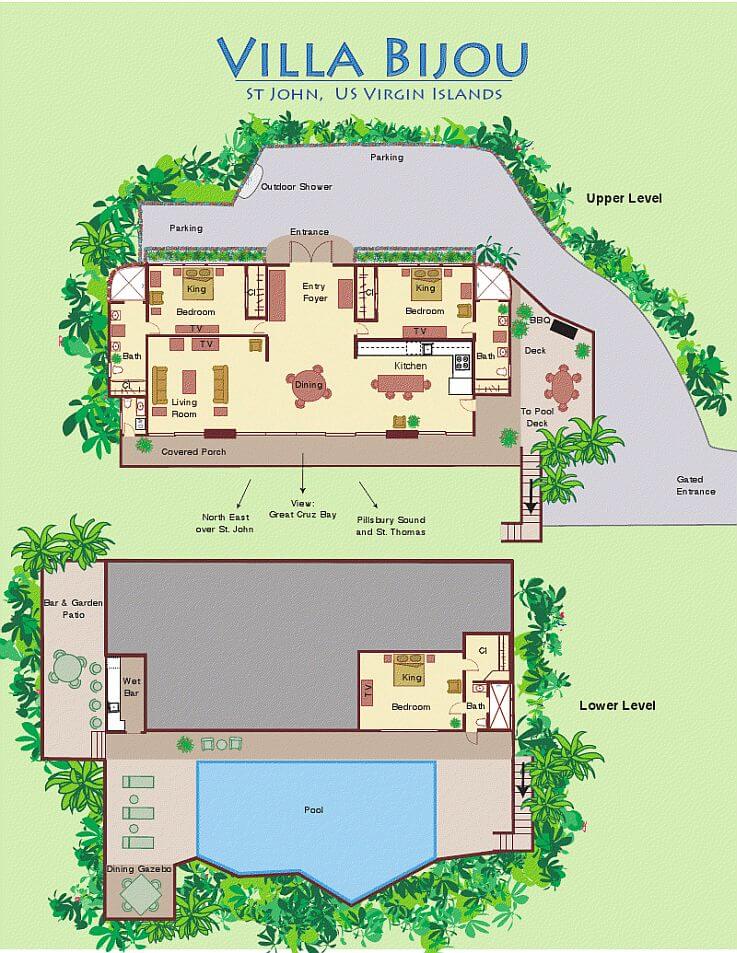 Villa Bijou Availability Calendar
Villa Bijou Features and Amenities
Bedrooms & Bathrooms
Entry level Master suites are king beds separated by main foyer, full bath with garden view shower, third bedroom is also King pool level, full bath. All suites have TV cable/DVD and AC.
Kitchen
Granite counter tops and Custom Cabinetry, Whirlpool lp gas cooktop/oven, microwave, full Whirlpool side by side frig, toaster oven and toaster, blender, drip coffee maker and dishwasher.
Pool Features
18x10x5-9 private pool overlooking the bay with easy stairway access with complete railings
Pool deck has large sun area, covered dining deck, and wet bar with granite counters, blender and frig with ceiling fan
Water access to Westin Beach 10 min walk and Chocolate Hole with good snorkeling is 15 min walk
Beach chairs, cooler and beach towels
Villa Bijou Photo Gallery
Villa Bijou Testimonials
May 2017-
This was our second time my husband and I stayed at Villa Bijou. We had two other couples with us this trip. Villa Bijou is a great location to town with incredible views. The kitchen is well equipped with everything from coffee make, toaster oven, toaster, microwave and plenty of pots and pans if you decide to cook in. We used the grill and and grilled steaks one night for dinner. The pool is a great size and the sun deck with gazebo is amazing. Had coffee at the gazebo every morning. Whether you are looking for just a getaway for two, or with other people Villa Bijou is a great. It's the perfect size for 2-6 people.
Thank you Jackie and Vacation Vistas.
Liz
Oct 2016-
Atlanta, Georgia
Very Nice Home in a Great Location with an Awesome View!
That should be enough said in the title. This home is actually just about perfect. I really can't think of anything bad to say. The view is great. Pool is very nice and private. Nice open plan to catch the breeze. AC in the bedrooms is great! Worked like a charm. Kitchen had ALL of the needed things. Not just an attempt to outfit a kitchen. The owners are generous in this regard. Always a bummer when you get some place and barely have enough to make toast. They even provided flashlights with extra batteries. Also a cool idea where past quests leave behind their leftover booze. Nice inventory and a nice touch. The whole place seems really personal. Truly like being a guest in a friends home. Service from the team in St John was PERFECT. We even had a small issue with the water running out. Made a call and the man with the plan was there in less than 30 min and this was at 10:30 at night. Very Nice. They switched to the other cistern and had a water truck there the next day! Great Service. Went above and beyond. The three Master Suite setup was perfect for couples. Very private and no need for anyone to feel slighted because someone else got the better room. Highly Recommend this home and their staff. Thank you to the owners for a great trip.
June 2016
Villa Bijou-
Perfect house, Amazing vacation, Incredible Island.
We are so grateful!
August 2015
Thanks to the owners for such a superb house with every amenity and great design. loved watching the sun set from the pavilion!
Thanks to Jackie of Vacation Vistas for great service, we'll be back!
March 2015
We have thoroughly enjoyed our stay at Villa Bijou! The Villa is beautiful, very comfortable, in a great location, with a spectacular view! We had all that we needed- ample beach towels to spices for at-home dinners.
What a beautiful pool, our ten year old could not get enough even after a day at the beach.
Thank you, for the fantastic home away from home in paradise at Villa Bijou. It was all we expected and more.
February 2014
I don't normally write reviews - and haven't stayed here since 2012 - but this villa and rental agency are really great. The pictures are accurate - beautiful views, love the open air and great breezes all the time. The pool and great layout of the area around the pool - never felt crowded - lighting at night around the pool was awesome - great for relaxing and grilling. Our family stayed here for several years - Lisa always had the villa ready upon our arrival - beautiful flowers / wine/ beer / fruit / snack platter. Not all villas provide this kind of hospitality, Lisa is just wonderful to deal with - any questions or help - she responds quickly.
If you need a 3 bedroom villa - this place is perfect / great location - close to town - easy drive / close to the Weston - great rental agency to deal with - great price.
April 2013
"Perfect place for three couples!"
Villa Bijou is in a beautiful, convenient spot on a fabulous island. It is the perfect size and configuration for three couples. The layout is extremely comfortable, the entire wall opens to the warm breeze, and the pool is a welcome way to rinse/cool off after a day at the beach. The kitchen is well stocked and easily accommodates multiple cooks. Beds are comfy. And the place is decorated with understated good taste. Not sure how Villa Bijou could be any better.
Feb 2012
AWESOME!!! Have been to St.John for the past 5 years and this was the first time we used Lisa and she was exceptional. Villa Bijou was everything she said and more. Very spacious, clean, and you had Steve at the ready should you have a problem at the villa. Everything you could ask for in a vacation home. Going to rent again next year.
See you then
Brian and Mary Kay W.
August 2011
Just wanted to let you know that the villa exceeded our expectations!!!!!! It was well equipped and we felt like it was our home for a week, Jane and Stevie were awesome. The wedding week couldn't have been more perfect--thank you for everything. I would recommend St John and especially vacation vistas to any one.
Glad we missed the storm also!!
Thanks again.
Ellen L.
Feb. 2011
WOW - what a wonderful experience and a truly awesome vacation! My husband Dan & I had great time. Our friends Bob & Syd said we would love St. John and also Vacation Villa's.
Everything was exceptional & first class without being stuffy... We needed to relax and that is exactly what we did. Pool, cazebo, wet bar, guest rooms, kitchen - all was just fabulous. I was in the kitchen allot; doing what I love most cooking and it felt just like being at home; however with the extrodinary view.
We are already looking at dates for next year to book & can't wait!
Thank you & all the staff at Vacation Vista's for a memorable trip. We'll be clients for a lifetime!
Warm regards,
Mike & Dan Armstrong
October 2009
Our stay at Villa Bijou was wonderful. Everything was perfect and Lisa did a great job of welcoming us and keeping in touch with us to make sure everything was OK. We have stayed at several Villas in St John and this was the first time
there were cold drinks, beer, wine, cheese and fruit waiting for us. It made a big difference not having to immediately run out to the store and we will remember those little touches when we book our next trip to St John.
Thanks again,
D.B
7/12-7/19 2009
We just returned from our stay at Villa Bijou, all I can say is WOW!! This was our fifth trip to St. John and I must say our best. Villa Bijou by far exceeded all of our expectations. The view from this villa is absolutley breathtaking!! There were 6 in our party 2 couples and my two children ages 4 and 9(who cannot wait to return to "Bijou Bijou" as my 4 year old called it) The villa has everything you need and want in a vacation home. Bedrooms were all super comfortable and all have A/C, Cable TV,DVD/VCR and all with out of this world stone showers. Pool was the perfect size, ranged from 5-9 feet bring life vests or swimrings for your little ones, although there were rafts and tubes provided. Beach chairs, coolers, ice-packs and towels all provided. Make sure you bring bug spray as the mosquitos are relentless all over St. John. Past guests have left condiments, and other non-perishbles you may need, which was very nice. Lisa was awesome and really takes care of you, thanks for the welcome wine, fruits, meats and cheese!! We will definitely be back!!
Dagmar
June 7th, 2009
We had a fabulous stay in your gorgeous villa! I'm back home and just looking at the pictures make me miss it so much. There was another couple that went with us and we stayed in the two master bedroom suites upstairs near the ktichen. Lisa was nice to let us use the bathroom downstairs for easy access from the pool. The bathrooms, kitchen, livingroom, had all of the nice amenities needed for our stay. They even had coolers we could take to the beach along with ice packs in the freezer and beach chairs also! Floats at the pool also. They thought of everything. The bedrooms stayed cold as ice with the air conditioning too, the way I like to sleep. All the doors from the living area open out to the pool downstairs, presenting the most breathtaking view possible, gorgeous bay with boats docked! There are 4 dining tables to sit so we would try a different one every night. We enjoyed grilling out burgers and chicken a few nights also. Internet connection in the kitchen was helpful to chat with our dogsitter, otherwise, no business on this trip! Try this place, it is heaven on earth! The owners have a book there that shows all of the improvements made to the home - they have put alot of money in it and it shows, just absolutely gorgeous! Oh gosh, I need to stop talking about it, I'm wanting to be back there right now!!!
Also, Lisa is a great manager too, she is helpful in every way possible and communicated everything we needed, no problems. Thanks Lisa!
Gail
Dec 2008
Hi Lisa,
Just wanted you to know how much we enjoyed Villa Bijou and we hope to
come back soon. Thanks for all your help with arrangements - taxi,
rental car, etc. And thank you for the treats, we loved the Pinot Noir - we enjoyed it so much. It was a great house for our family. Thanks for getting the pool warm so our granddaughter could enjoy it the last 2 days there.
Terry and family
September 2008
After staying at Caneel Bay 26 years ago we decided to return to St. John and rent a villa and jeep. Villa Bijou was the perfect choice for us as it allowed for privacy, yet convenience to town and various beaches. It is very well-equiped from beach chairs to cooking utensils. We especially enjoyed the gazebo looking out over Great Cruz Bay over to St. Thomas each night. The pool is nice and allows for both sun and shade. The a/c throughout was very much appreciated as the days were very warm and the humidity was high during our stay. Lisa was great in making sure we had everything we needed and provided tips on beaches, restaurants and grocery shopping. I would rate our experience at Villa Bijou an A+ and would recommend it highly to couples or a family who want to get away from "resort accomodations" and desire a more comfortable and independent vacation experience.
Denny
---