Eureka Villa – Brand new for 2021!!!
Location: Giftt Hill
View: Hart Bay, Chocolate Hole & Beyond
---
Rates from $2380 per week plus 12.5% hotel tax
---
Inquire / Book Now
Villa Description
Brand New for 2021 !!!!!Newly renovated home! The central living area of the rental home is flanked by a master bedroom with King bed on right and Left bedroom has 2 full size beds, also has sleeper sofa for children. The fully equipped kitchen looks out on the flower-banked courtyard. Each bedroom also opens to the deck to beautiful views of several Bays including Great Cruz Bay Chocolate Hole Bay and more! Sunset views! A/C in each bedroom on main level.
Lower living area with smart TV and small kitchenette and twin bedroom and sleeper sofa for children! The lower bedroom has A/C also.
Ideal for 3 couples and have ability to add 2-4 children on sleeper sofas.
Eureka Rates

Winter/Spring Dates: Jan 2 to May 31
Rates per week:
1-2p $2975 – 1BR
3p $3255 – 2BR's
4p $3535 – 2BR's
5p $3815 – 3BR's
6p $4095 – 3BR's
7p $4375
8p $4655
9p $4935
10p $5215
plus 12.5% hotel tax and $50 RSV fee
Summer/Fall dates: June 1 to Dec 18
Rates per week:
1-2p $2380 – 1BR
3p $2660 – 2BR's
4p $2940 – 2BR's
5p $3220 – 3BR's
6p $3500 – 3BR's
7p $3780
8p $4060
9p $4340
10p $4620
plus 12.5% hotel tax and $50 RSV Fee
No arrivals on July 4th or Thanksgiving Day and 1 week minimum stay for July 4th or Thanksgiving weeks
Christmas / New Year's Rates:
not available
per week plus 12.5% hotel tax
Eureka Floor Plan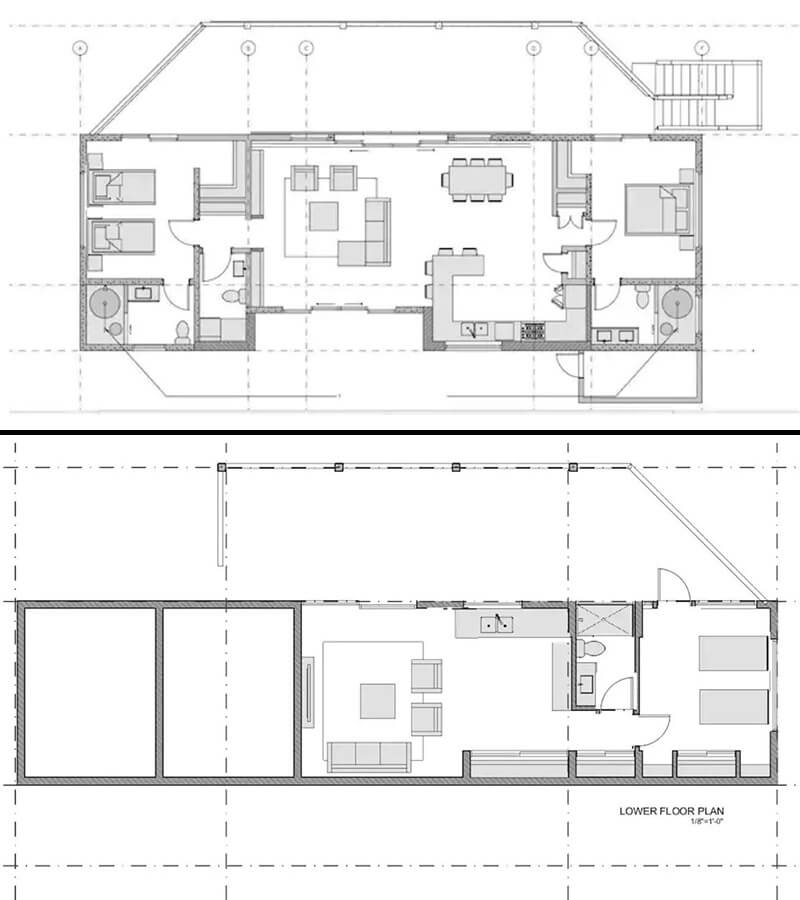 Eureka Availability Calendar

Calendar Updated on October 23, 2021 at 02:27 am
October 2021
| | | | | | | |
| --- | --- | --- | --- | --- | --- | --- |
| Sun | Mon | Tue | Wed | Thu | Fri | Sat |
| | | | | | 1 | 2 |
| 3 | 4 | 5 | 6 | 7 | 8 | 9 |
| 10 | 11 | 12 | 13 | 14 | 15 | 16 |
| 17 | 18 | 19 | 20 | 21 | 22 | 23 |
| 24 | 25 | 26 | 27 | 28 | 29 | 30 |
| 31 | | | | | | |
November 2021
| | | | | | | |
| --- | --- | --- | --- | --- | --- | --- |
| Sun | Mon | Tue | Wed | Thu | Fri | Sat |
| | 1 | 2 | 3 | 4 | 5 | 6 |
| 7 | 8 | 9 | 10 | 11 | 12 | 13 |
| 14 | 15 | 16 | 17 | 18 | 19 | 20 |
| 21 | 22 | 23 | 24 | 25 | 26 | 27 |
| 28 | 29 | 30 | | | | |
December 2021
| | | | | | | |
| --- | --- | --- | --- | --- | --- | --- |
| Sun | Mon | Tue | Wed | Thu | Fri | Sat |
| | | | 1 | 2 | 3 | 4 |
| 5 | 6 | 7 | 8 | 9 | 10 | 11 |
| 12 | 13 | 14 | 15 | 16 | 17 | 18 |
| 19 | 20 | 21 | 22 | 23 | 24 | 25 |
| 26 | 27 | 28 | 29 | 30 | 31 | |
January 2022
| | | | | | | |
| --- | --- | --- | --- | --- | --- | --- |
| Sun | Mon | Tue | Wed | Thu | Fri | Sat |
| | | | | | | 1 |
| 2 | 3 | 4 | 5 | 6 | 7 | 8 |
| 9 | 10 | 11 | 12 | 13 | 14 | 15 |
| 16 | 17 | 18 | 19 | 20 | 21 | 22 |
| 23 | 24 | 25 | 26 | 27 | 28 | 29 |
| 30 | 31 | | | | | |
Eureka Villa Testimonials